The project is designed to optimize the operations of its users, with warehouses for rent in Villa Nueva from 3,000 m2 to 70,000 m2. The warehouses are designed and built according to the general specifications of the project but, very important, also taking into account the needs or requirements of each user.
Located next to the VAS (Vía Alterna al Sur) Vasto Logistics offers excellent connectivity with the CA-9 highway to the Atlantic and Honduras, CA-1 to Mexico, Guatemala City and El Salvador. Additionally, it is accessible with secondary routes to Barcenas, Villa Canales, Boca del Monte, Calzada Aguilar Batres, Atanasio Tzul and San Miguel Petapa.
According to the Market Study of the Warehouse Sector in Guatemala, conducted by the Gremial de Bodegas de Guatemala in 2021, Industrial Parks dominate the warehouse market with 56% of the total existing square meters. Likewise, most of the storage space, 70%, is in the southern zone (Villa Nueva, Amatitlán, San Miguel Petapa, and zones 8, 11, 12 and 21 of the capital).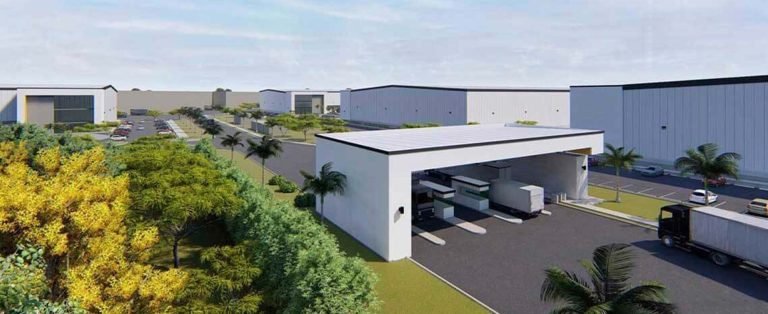 For more information, please complete the following form:
Maneuvering yard of 36.5 m2 (36.5 m2)
Ratio of platforms of 1 every 350 m2
Common parking for containers
Dining area
20 m wide traffic lanes
Parking ratio of 1 per 200 sq. mt.
Garbage collection system
Ratio of sidewalks: 1 every 350 sq. mt.
Fire fighting system
NFPA standard
Treatment plant
3 entrance and 2 exit lanes
Three-phase electricity
Fiber optics
24/7 security with CCTV control
Area for pilots
12 m clear height
40% – 50% greater capacity vs. a conventional warehouse
Distance between columns of 16.50 m
Door size of 2.74 m x 3.05 m (8.74 ft. x 10.05 ft.)
7% natural lighting
Fire protection system:
Cabinet type / Standard
Floor resistance: 7 Ton/m²